Delete Tag

To delete a Tag of the selected Service select the desired Tag and perform one of the following:
Right click on the Tag and select Delete.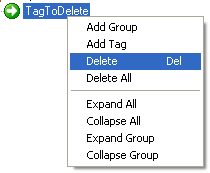 Use the Delete key on the Keyboard.
To delete all Tags and Groups in the configuration select the top Tag or Group and right click on the top object and select Delete All.