Selecting Service
When accessing any of the configurations you will select the desired network node to modify. This allows you to modify configurations on remote systems. Local is the local OAS Service.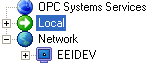 If the Service is not running on the system you select you will get the following error dialog:

This indicates that the system is not reachable or the OAS Services are not running.
The green right arrow icon appears on the Service that is currently selected.
The status of the service will appear at the top along with configuration buttons to load, save, and modify a configuration.