Product Overview
The OAS Platform provides rapid communications and connectivity to a wide variety of PLCs, devices, and databases.
Direct connectivity to Allen Bradley, Siemens, and Modbus devices allow for the highest performance and reliability. When using other controllers, OAS provides connectivity through any OPC server.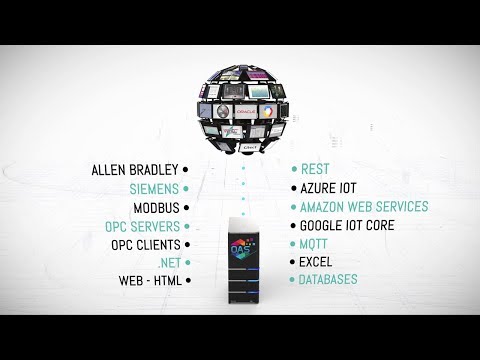 Platform Components
Virtually all supported Data Sources can also be connected as a Data Destination.
The OAS Platforms functions as a
IoT Gateway and protocol bus
, moving data between different devices, databases, applications, and IoT services. For example, you can move data from an Allen Bradley PLC to a Siemens PLC. Or from a PLC to a Database. Or from a Database into a
visualization
. Or from any source, data can be transformed into
Trends
, or monitored to trigger
Alarms
. Once connected, data moves within the OAS Platform and can even be accessed programmatically through
SDKs and APIs
.
Device Connectors
Data Connectors
The OAS Recipe product provides data transfer from databases. The database providers can be SQL Server, SQL Server Express, Access, Oracle, SQL Azure, mySQL, Cassandra, MongoDB, MariaDB, SQLite, Amazon Aurora, and Amazon RDS. OAS Recipe supports static or dynamic queries from other data sources such as device or operator input from your user interface.
The OAS Excel Connector product provides connectivity to Microsoft Excel Workbooks for both read and write functionality. The OAS Excel Connector can interface with Microsoft Excel 2019, 2016, 2013, 2010, 2007, and 2003.