OPC Data Fix
The OPC Data Fix is an easy solution to connect to OPC Servers that do not run as a Windows Service and require a Desktop Account permission to connect to the OPC Server. First verify with the OPC Foundation Sample Client if the OPC Server is working properly with Desktop account permission.
Step 1
Start the OAS Service control manager under the program group Open Automation Software.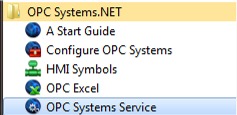 Step 2
Select the Enable OPC Data Fix button.