Debug Universal Driver Interface
You can test and Debug a Universal Driver Interface with the Universal Driver Interface Test application that is installed with Open Automation Software.
Follow these simple steps to Debug a UDI Project..
Step 1
You will need to be running Open Automation Software Version 11 or greater to support Universal Drivers.  You can download the latest version at https://openautomationsoftware.com/download/
Step 2
Copy the Universal Driver Interface Test App Project from C:\Program Files (x86)\Open Automation Software\OPC Systems.NET\Universal Drivers\Example Driver Code\.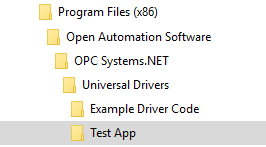 Step 3
Set your Driver Project Active Solution Configuration to Debug and compile it.


Step 4
From the Test App Project Solution add your Driver Project to the Solution.

Step 5
Set the LoadFrom path in DriverWindow.xaml.vb of the Test App to the path of your Driver Project Debug directory.
Dim

Driver

As

Assembly

=

Assembly

.

LoadFrom

(

"C:\UDI Example Driver\bin\Debug\MyOASDriver.dll"

)
Step 6
Start the Test App in Debug mode and select Create Driver to load the driver assembly.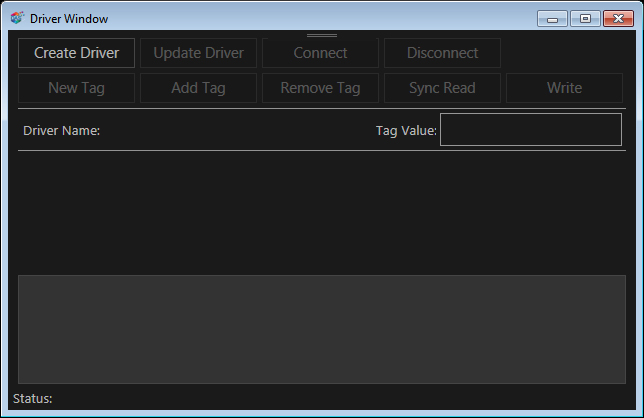 The Driver Interface properties defined in the GetDefaultDriverConfig function should appear in the window.
Step 7
Set the desired driver interface property values and select Update Driver.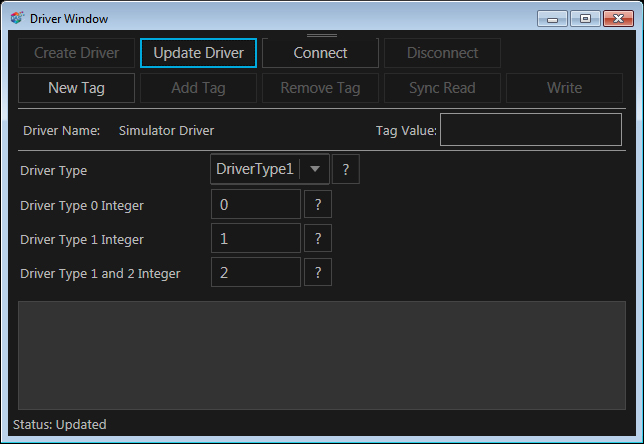 Select the Connect button to call the Connect method.
Step 8
Select New Tag to show the Tag properties.

The Tag properties defined in the GetDefaultTagConfig function should appear.
Step 9
Set the Tag Name, Polling Rate, and other properties to your desired values and then select Add Tag to call the AddTags method.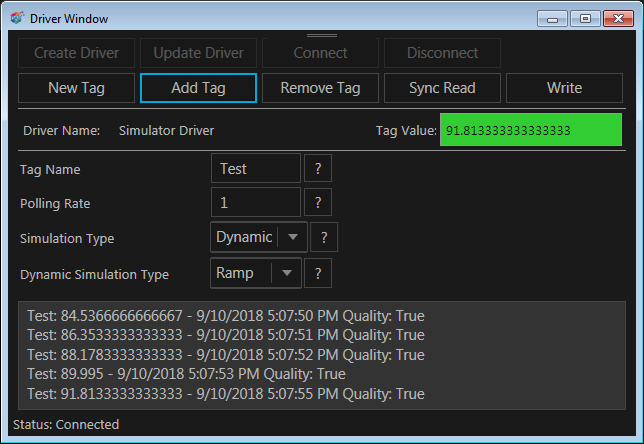 If your driver code raises the event AsyncReadCallback you will see a value update in the Tag Value field.
Step 10
Change the Tag Name and select Add Tag to add additional tags.
Select Remove Tag to remove the Tag you have specified in the Tag Name field.
Use the Write button to call the WriteValues method.
Use the Sync Read button to call the SyncRead function.
To see how to create your own driver view Create a Universal Driver Interface.
View Deploy and Use a Universal Driver Interface for instructions on how to use the driver in the OAS.