Product Overview
The OAS Siemens Data Connector allows you to connect directly to Siemens controllers with the built in Siemens Driver Interfaces which support communications over Ethernet to S7-200, S7-300, S7-400, S7-1200, and S7-1500.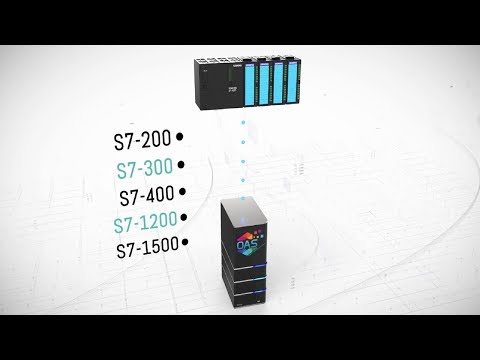 Platform Components
What Our SIEMENS Data Automation Software Can Do For Your Business
SIEMENS Controllers
Easily add SIEMENS communications in Real-Time Automation with just 1 click! Hosting SIEMENS live data has never been any easier.
S7-200, S7-300, S7-400, S7-1200, and S7-1500
SIEMENS controller support for data automation.
High Speed Communications
Communication update rates for Ethernet are typically 15 milliseconds per packet.
Easy Setup
Setup communications to multiple devices, and multiple registers in minutes.
SIEMENS Data Communications
Connect your SIEMENS communications like never before in Real-Time. Sending data from anywhere to anywhere using OPC Systems.NET
SIEMENS Ethernet
You can run multiple Ethernet connections in parallel to provide the fastest overall communications possible.
---
Access Siemens Data Anywhere!
Directly access SIEMENS compatible devices from anywhere.
Host live SIEMENS data over the internet with any PC and a standard internet connection.
Remote Data Logging of SIEMENS data to SQL Server in an open format – log 1 million values per second
Highly secure remote data logging over the internet to a centralized PC.
Parallel processing for high speed data throughput for Ethernet devices.
Optionally define a backup controller with Automated Communications Failover.
1 Click Access to Data!
Setup SIEMENS addressing programmatically or with Microsoft Excel simple import and export.
View and control data for SIEMENS directly from your Android, iPhone, iPad, or Windows PC.
Create Visual Dashboards of Live SIEMENS Data with Microsoft Visual Studio!
Integrate Live SIEMENS Data with other SCADA / HMI platforms.
Connect Live Data to any .NET application with the .NET connector
Windows PC/Server
Windows Embedded
Windows IoT
Linux Server
Virtual Machines (Win/Linux)
Raspberry Pi 4
Docker Containers (Win/Linux)
Getting Started – Open Automation Software
Getting started – OAS Siemens Connector