Platform Components
The HVAC industry is increasingly turning to IIoT sensors to monitor and control equipment. The adoption of high-tech solutions is nothing new as large scale industrial enterprises have been doing this for decades. However, recently both large and small businesses have started exploiting the benefits of high-tech low-cost systems.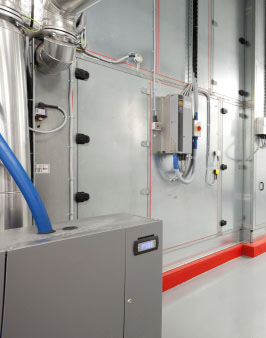 The HVAC industry comprises heating, ventilation, and air conditioning. This industry is heavily driven by federal and state regulations. It is one of the largest consumers of energy and keeps looking for smart and environmentally friendly technology. That's why the HVAC industry is one of the early adopters of IoT technology to make systems more energy-efficient and enable large cost savings. Heating, Ventilation, and Air Conditioning (HVAC) industries can be transformed by the fast-evolving Internet of Things technologies.
The Internet of Things enables HVAC systems and appliances to communicate with us in new ways. IoT devices are equipped with various sensors that are interconnected to exchange data with each other. IoT-enabled HVAC takes the form of smart thermostats and sensors monitoring environmental changes. The smart HVAC equipment collects data and automatically adjusts the temperature as needed. The industry is also adopting IoT solutions to automate sales and services processes to help cut costs and keep prices competitive.
OAS typically interfaces with BACnet via OPC DA or OPC UA as well as Modbus masters and slaves for HVAC systems. This data can the easily be shared through web interfaces, desktop applications, and transferred automatically to other systems.
The key benefit that IoT brings to the HVAC industry is reducing energy consumption by a large margin. HVAC devices can also be equipped with motion sensors to monitor occupancy within the building. If no movement is detected for several minutes, the system can send an alert through an app notification to turn off heating (or cooling). This helps in controlling energy usage and reducing utility bills. These sensors can also trigger adjustments to the system to conform to occupants' preferences and comfort needs automatically.
Smart HVAC
With the help of smart technology like mobile apps, building managers can now control HVAC devices from one centralized point. This also allows building owners to identify when maintenance is needed. A popular smart trend in the HVAC industry is smart thermostats. This helps in controlling and detecting humidity, temperature, and motion. Smart HVAC can be integrated with systems such as Google Home and Alexa for better communication with HVAC contractors and building managers. Remote capabilities of the system allow controlling your facility's HVAC system from anywhere. IoT-enabled HVAC devices perform more efficiently and save money. At OAS, we develop software to connect IoT devices and sensors to gather operational data and move it to the cloud or third-party services for making smart decisions.
The ongoing development of the Internet of Things has changed various industrial operations for good. Devices with sensors can measure, record and share data in real-time and easily create a huge database for analysis. This data analysis provides companies better insight into what is happening in a particular process. Efficient collection and sharing of data among the relevant stakeholders also help in making smart policies. Moreover, enterprises can use this data to understand customer behavior, improve efficiency in business operations, and understand market trends among other numerous benefits.