Platform Components
The rising demand for resources has increased the pressure on the mining industry. To deal with this increased pressure, the mining industry needs to stay abreast of every opportunity to operate more efficiently. For the asset-intensive industries such as utilities, oil & gas, energy, and manufacturing, technology is rapidly transforming the way businesses operate. Like other industries, the mining industry is also adopting IoT solutions to achieve operational efficiency and costs reduction. Open Automation Software offers IIoT solutions for the mining industry that allows companies to continuously monitor operations and improve overall efficiency.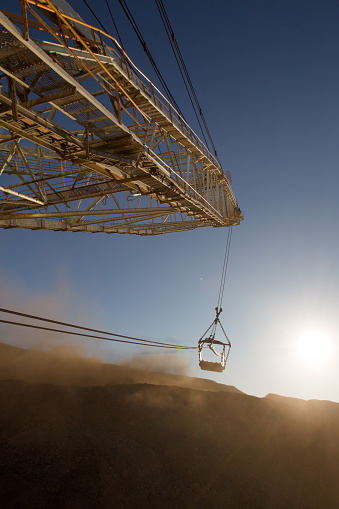 For more than 25 years Open Automation Software has been providing solutions to the mining industry for geological monitoring, predictive maintenance, and asset management. OAS has been implemented in lithium, gold, diamond, and coal mines. In strip mining BHP utilized OAS to monitor critical power load for their large scale equipment like the drag line shown here. Moving 77 tons of earth in each bucket load with 1/2 mile swing, data archiving was used to optimize operator performance and to reduce wear on the equipment. Trending was utilized to monitor for peak load of live data and analyze historical data. Alarm logging and notification was needed help to identify immediate requirement for maintenance. Now using AI with data models from the archived data OAS customers can now harvest data to predict when equipment will be due for maintenance or repair. For the drag line the key variable identified was the current curve for each motor during a bucket and arm movement. Other variables such as bearing temperature also are indicators for predicting maintenance to optimize operation time and reduce downtime.
Geophysical monitoring is another large piece of OAS business in the mining industry. Ground water monitor is key to record samples once per day for particulates and levels. OAS has been used by OEMs providing equipment and sensors for the mining industry. Geomation selected OAS as the communication and data processing platform for their specialized equipment for shifts in earth. Sampling intervals and communication health is key to remote telemetry over Modbus to retain values for defined intervals using the OAS retain values feature, and to compute live and historical data using the OAS calculation engine built into the OAS service.
Miners often have to work under extreme conditions and IoT systems can enhance mine safety training to reduce accidents by providing historical operations data in a meaningful way. OAS logs data in an open format, which makes it easier to generate production, operations, and environment reports. To deal with these problems, mining companies can install underground monitoring and control systems to ensure mining safety. At OAS, we help businesses gather data to improve performance and boost productivity while eliminating unnecessary costs and waste. The sensors generate data that is analyzed in real-time to anticipate machinery failures and boost productivity. By connecting devices with sensors, miners can monitor operations, reduce accidents, and improve overall efficiency.
Get Real-Time Data and Analytics
When engineers connect their equipment with sensors, they get access to data inputs, such as drilling reports and geological surveys. The collected data can be used to make predictions and provide recommendations on exploration to achieve higher-yield results. Adopting IoT means having access to large volumes of data related to machines, safety, the operational environment, production processes, and other aspects of operations. Real-time analytics enable mining companies to improve their excavation and processing methods to find better methods to reduce impact on the environment.
IoT-driven solutions like automating trucks and drills not only reduce costs but also have safety benefits. The collected data generates meaningful insights that can help miners to take effective actions. OAS solutions also provide insights into equipment functionality to avoid sudden downtime. Our IIoT solutions are used by geologists, pit controllers, drilling/blasting teams, and mining supervisors to ensure the safety of workers, as well as for saving energy and money.