Platform Components
IIoT is revolutionizing almost every industry, including healthcare. IoT applications and solutions like smart devices, wearables, and connectivity of modern medical equipment have changed the industry dramatically. Open Automation Software has remained at the forefront of developing the best IIoT platforms to set up a centralized network of interconnected devices that can generate and exchange data within a single framework. For example, features such as the OAS Data Historian and Distributed Networking provide high speed data logging and a flexible architecture for geographically distributed medical facilities.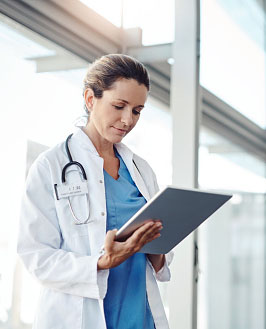 IoT-enabled medical devices can gather data in real-time, which provides a passive accumulation of analytics materials. At OAS, we develop IIoT solutions for physicians, hospitals, patients, and insurance companies. Our IIoT platforms can enhance medical facilities to turn a regular hospital into a smart hospital.
Connecting health devices brings many significant benefits to the healthcare industry. Autonomous systems can save a lot of money because patients don't need to make frequent visits to the hospital. Moreover, doctors can view all the necessary data and check real-time patient conditions without leaving their office. For patients, it's now possible to monitor and manage their health via mobile devices and applications. IIoT applications like mobile health and remote patient monitoring can be a true life-saver for patients. Devices in the form of wearables like fitness bands and wireless devices like blood pressure and heart rate monitoring cuffs, and glucometers give access to valuable medical info. These devices analyze organ behavior trends, manage other internal IoT sensors, and contact your doctor with a single tap.
Smart Hospitals
Traditional hospitals and healthcare workers deal with enormous loads of paperwork, as well as long and frustrating waiting lines. But now smart hospitals have IoT devices tagged with sensors for tracking real-time location of medical equipment like wheelchairs, defibrillators, nebulizers, oxygen pumps, and other monitoring equipment. The hospitals can also install IoT-enabled hygiene monitoring devices to prevent the spread of infections. Modern hospitals also use solutions to ensure the availability and accessibility of important medical instruments and medications. IoT-enabled system can take a proactive approach by virtually monitoring medical hardware and alerting hospital staff members of potential issues.
Besides hospitals, patients, and physicians, OAS also provides IIoT solutions for Health Insurance Companies. By using IoT-connected intelligent devices, insurance companies can collect data for their underwriting and claims operations. By monitoring medical devices, these companies can identify fraud claims or even offer customer discounts based on real-time analysis of health and lifestyle data.
Case Studies
See how current customers have taken advantage of the OAS Platform
Blue Pillar – Creates Avise Energy Management System for hospitals using Open Automation Software.