Platform Components
Internet of Things in the retail sector allows store managers to establish a connection with a client, improve product maintenance, and build a long-lasting bond with first-time shoppers. Retailers are increasingly adopting IoT technologies to catch shoppers' eyes and increase their sales. IoT allows devices to communicate, analyze, and share data via networks and cloud-based software platforms. This data is used for establishing better connections with clients, improving the experience of customers, and increasing sales. In the case of retail, the "things" can include RFID inventory tracking chips, traditional in-store infrared foot-traffic counters, cellular and Wi-Fi tracking systems, digital signage, etc.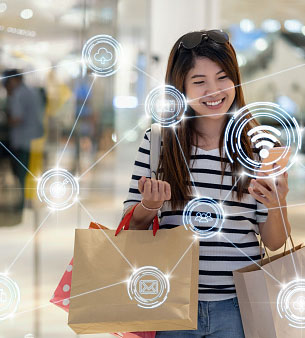 These days, consumers demand a convenient and personalized shopping experience. To keep up with changing needs and demands of customers, retailers have taken shopping beyond the four walls of a traditional retail store. Innovative IoT solutions make it easy for retailers to conduct business anywhere while increasing revenue and reducing overall costs. IoT is improving communication between customers and brands. IoT solutions offer personalized communication based on data gathered from various sources. Sensors collect data that helps in identifying the habits of customers and share insights with marketing teams.
Monitor Inventory and Improve Customers' Experience
Open Automation Software provides retailers IoT solutions that help them grow their retail business. We make it possible for retail managers to track and communicate with retailers. Brick-and-mortar retail stores, as well as warehouses, are using RFID tags that hold useful information like temperature, location, weather, damage to the object, etc. Tags can be identified by the system and GPS location reveals the exact location of every item. This helps in reducing cases of product theft or loss from damage. Besides inventory tracking and management, IoT-enabled solutions help retailers improve customer engagement while increasing revenue and reducing operational costs. Smart retail solutions built on the OAS Platform allow retail businesses to improve customer experiences while gaining valuable insights into trends and supplies.
We offer solutions to monitor temperature and other conditions to ensure that perishable food items are safe to consume. In addition to optimizing operations, OAS can also help you create a more personalized shopping experience. OAS products can help businesses gain a competitive edge by enabling them to use valuable insights and track trends.