Secure your data with Communications Diodes
Communication diodes are used to protect data on a network to allow network traffic only one way. This eliminates the threat of cyberattacks and access to intellectual property. Customers rely on OAS to transfer selected real-time KPIs through communication diodes
The OAS Unidirectional Network Gateway feature was designed and published in 2005 for our nuclear power customers to transfer OPC data from 20 different nuclear reactors for data collection and visualization.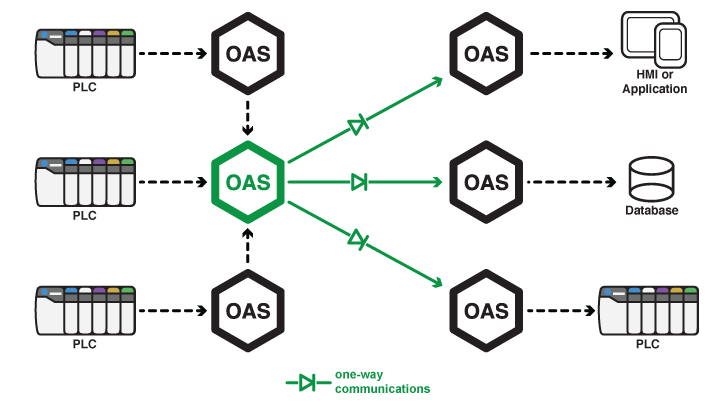 This unique network feature of OAS has been adopted by manufacturing and municipality organizations to protect their control systems from attack with data diodes in place to protect their assets. All OAS data sources including Modbus devices, Allen Bradley PLCs, Siemens controllers, OPC UA, MQTT, and .NET applications can be shared to applications of the protected network securely. The data that is received outside of the DMZ can be achieved, visualized in Web or .NET applications, generate alarm notifications, or transferred to third party cloud systems like AWS IoT Gateway and Azure IoT Data Hub.
Security and Flexibility
The broadcast server can be set to transfer all live values from the local system or be set to transfer a selected list tag variables from other OAS servers within the organizations DMZ. Each broadcast server can target multiple receiving servers and each receiving server can process data from multiple broadcast servers providing a possible many to many network configuration.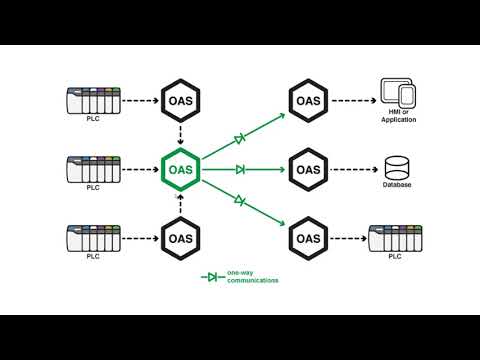 More:
Getting Started – Unidirectional Network Gateway
Download a Fully Functional 30-Day Trial of the Open Automation Software Platform